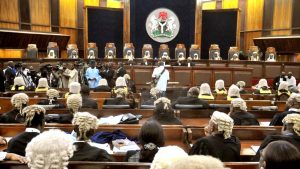 The Supreme Court on Tuesday suspended a hearing in a suit on the Imo North senatorial bye-election which was held on December 5, 2020.
Hearing the appeal on Tuesday, Justice Musa Datijo Muhammad, who led a five-man panel of justices, told the two counsel in the matter that the proceeding has been halted.
Muhammad disclosed that the interim chairman of the All Progressives Congress (APC) had written a petition against him and two other justices – Helen Ogunwumiju and Abdu Aboki – accusing them of allegedly having a meeting with members of the Peoples Democratic Party (PDP) to subvert justice in the case.
He said the APC alleged, that "my humble self had led my two brothers to attend a meeting with members of the PDP to strategize how to subvert the outcome of this case".
"I must say that this is most unfortunate and my heart bleeds for this country," he said.
"If people as highly placed as the interim chairperson of the APC would open his mouth and make this weighty statement against innocent justices of this court, then I say my heart bleeds.
"We are not interested in any matter and I challenge him and the party to substantiate his allegation that my humble self attended a meeting with members of the PDP with a view to subverting the interest of their party.
"This is a reckless and irresponsible statement. That is how these useless statements were made in the past and that is why we are not taking it likely.
"If they have honour, let them substantiate their allegations and I will not leave a day longer in this court.
"So, this matter is adjourned sine die, and parties should approach the chief justice of the federation."
Reacting, counsel to  Ifeanyi Ararume, senatorial aspirant, Ahmed Raji said he was shocked to hear about the allegations made against the justices.
Also reacting, Umeh Kalu, counsel to the APC, said he was hearing of the petition for the first time.
Recall that Ararume and Francis Ibezim, both members of the APC, have been in a legal battle in a bid to become the senator representing Imo North senatorial district.