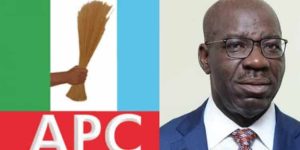 The All Progressives Congress (APC) has declared that it will challenge the ruling of the Federal High Court sitting in Abuja on the alleged certificate forgery by Governor Godwin Obaseki.
This was disclosed after the judgement on Saturday in which Justice Ahmed Mohammed ruled that Obaseki was qualified to contest in the September 2020 Edo governorship election.
The APC and a party member, Edobor Williams had dragged Obaseki to court for alleged forgery of his West African School Certificate O/level and A/level certificates which he used in contesting the governorship election.
They also alleged that the first-degree certificate from the University of Ibadan which the governor submitted to the Independent National Electoral Commission (INEC) was forged and therefore prayed the court to disqualify Obaseki for allegedly breaching Section 31 (5) and (6) of the Electoral Act and Section 182(1)(J) of the constitution.
However, as earlier reported by Naija News, Justice Mohammed in his judgment on Saturday said that the APC failed to prove the forgery allegation beyond reasonable doubt.
He held that there was no iota of evidence before the court to establish that Obaseki forged either his O'level certificate or the degree certificate that was awarded to him in 1979 by the University of Ibadan.
Reacting to the ruling, the Chairman of the Caretaker Committee of the APC in Edo State, Col David Imuse (retd), said the party's legal team would appeal Saturday's ruling at a court with higher jurisdiction.
This was contained in a statement signed by Edo APC Publicity Secretary, Chis Azebanwan.
"We thank God also for granting all the lawyers and the judge very good health with which they all contributed to bringing the whole litigation process to this interesting stage. It is not the end of the road," the statement noted.
Meanwhile, Governor Obaseki in his reaction to the high court judgement, described the ruling as a triumph of the rule of law and a testament to the fact that truth would prevail ultimately no matter how vehemently detractors push lies in the face of incontrovertible evidence.
According to the governor, the verdict confirms once again that Edo people were well-guided in trusting him to lead them in the September 19th governorship election.