Nigeria as a country practices federal system of government with 36 states and Abuja being the capital of Nigeria. The Federal Government of Nigeria is the federal government for the Federal Republic of Nigeria; the federal government comprises three distinct branches: legislative, executive, and judicial. Nigeria got her independent since 1960, therefore has been existing for more than six decades; largest tribes in Nigeria are Igbo in the south east, Hausa in the north and Yoruba in the south west.
However, there're behavioral patterns of Nigeria's politics that keep reoccurring; listed below are 5 common patterns in Nigeria's politics.
1. Tribalism
Tribalism is obvious and common happening in Nigeria's politics, thus has been accepted to be normal under the disguise that incumbents have the constitutional right to choose who he/she wants to work with. This happens at all levels of politics in Nigeria: local, state and federal government. Tribalism is so deep in the system that a situation where law doesn't permit appointment, the person ruling will influence who will be put into an office. For example, current Nigeria's president is Mohammadu Buhari, he is from the northern part of Nigeria, as a result people occupying Nigeria's important offices are as follow: Chief of Staff – North, SGF–North, INEC Chairman – North, Chief Justice of federation – North, President Court of Appeal – North, EFCC Chairman – North, President Federal high court – North, National Security Adviser – North, Chief of Army Staff – North, Chief of Air Staff – North, Defense Minister-North, and so on. Also, during election in Nigeria, most citizens vote in the same pattern- voting candidate because of where he/she came from.
2. Biggest parties win
Nigeria as a federal state currently has over 55 political parties; however, most of the political seats- from local government to presidency are being occupied by two parties (APC and PDP). These two parties I belief were formed while their founders are in governments either as military or civilian governments, as a result they're more funded than all the other 55 political parties put together. As a political marketer, during political campaigns, I do see these two parties aggressively, and well executing all types of political marketing one can think of, while other parties do little or nothing about campaigning, but simply have their logos and names in the ballot and voting venues hoping that voters remember them.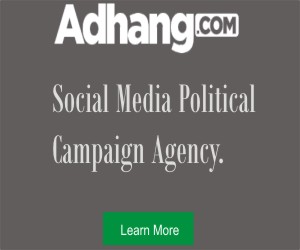 3. Politics only for the rich
Politics in Nigeria mostly presidential and governorship elections are intentionally or unintentional made for the rich guys in the society: to pick up a nomination form and with all the items associated with it as a candidate to run for an office costs tens of millions of naira (according to reliable sources). This means it doesn't matter your ideas, innovative capacities, even if you have the 100% solutions Nigerians are looking for, once you don't have millions for this form, you won't be a candidate for that political party. Although, the Senate on March 30, 2018, passed the Electoral Act No 6 2010 (Amendment) Bill 2017 and one of the things it will do when signed into law, is abolish arbitrary fees for nomination forms fixed by political parties.
Parties can no longer impose arbitrary nomination fees on political aspirants. The bill passed prescribes limits for each elective office as follows:
(a) N150, 000 for a ward councillorship aspirant in the FCT;
(b) N250, 000 for an area council chairmanship aspirant in the FCT;
(c) N500, 000 for a house of assembly aspirant;
(d) N1, 000, 000 for a house of representatives aspirant;
(e) N2, 000, 000 for a senatorial aspirant;
(f) N5, 000, 000) for a governorship aspirant; and
(g) N10, 000, 000) for a presidential aspirant.
4. Disbelief in the elections' process
Most Nigerians don't belief in Nigerian voting system; they argue that before elections, those in government know who will win the election; in other words, political parties with help of their sponsors and supporters are believed to be manipulating the voting system to favor candidates of their choice. As a result of this lack of trust, most Nigerians don't bother registering for voters' card, some register for voters' card because of banks' transactions not for voting.
5. Political offices are dominated by the North
Nigeria's political offices are dominated by the people from northern Nigeria and political parties' executives are mostly northerners, and this has become a norm to the point that major political parties always bring northerners as presidential candidates. It seems that for a political party to win a presidential seat in Nigeria, the candidate most come from the northern Nigeria.
These are 5 common patterns in Nigerian politics. I'm not suggesting that these are bad or good, you judge that yourself. Besides, Nigeria is better than countries that are always in war.